How to Prepare for a Vendor Market 
I can't believe it's been over a year since my last market event! I'm finally ready to start again -taking appropriate precautions due to the pandemic- and have been working on a vendor market checklist on what I needed to make I'm prepared for a successful event. And of course, I wanted to share!  
Read 'till the end for a free Vendor Market Checklist you can save for future reference!
First of all, you need to determine what is a successful event for you. Is it a certain dollar amount in sales? Is it a number of pieces sold? Or maybe it's about exposure to your local community and raising your following across your social media. Either way, it's important to decide what your goal is for your event and how you will determine if it was successful and worth participating at again.  
Once you know your definition of success you can shift your focus to the prepping for the set-up and decor keeping in mind your goals. If you want to focus on a sales amount, make sure you have a lot of products at different price points. If you're trying to sell a specific amount of products consider having a sale. Or, if you're working on exposure and followers, consider hosting a raffle or offering a discount to new followers.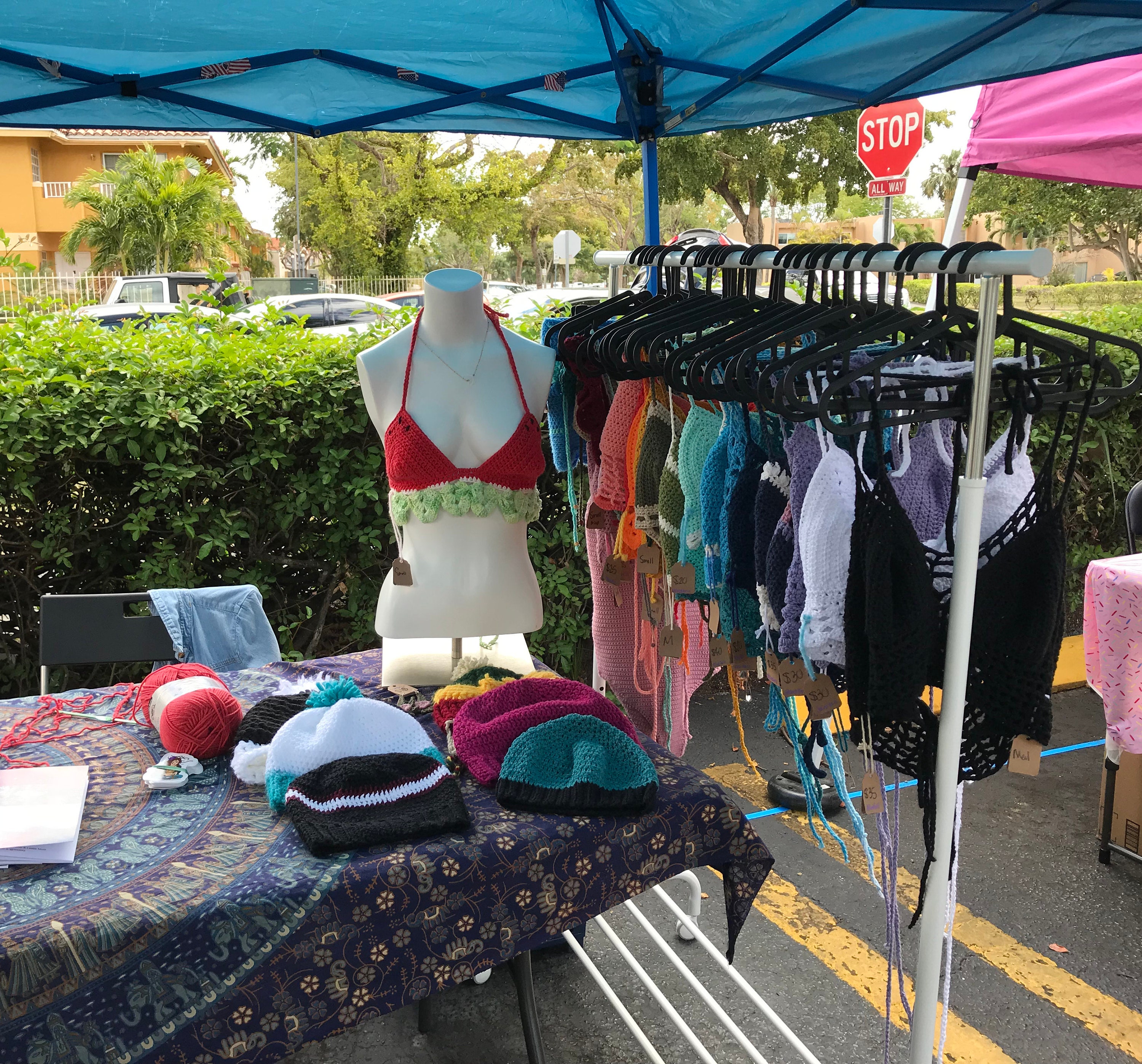 Set-Up 
Most event spaces allow you to bring a 10 x 10 white tent. While I have managed to do a handful of events without a tent, I've noticed the best events to participate in typically require a tent. 
I recently ordered my tent through Amazon but if you can't wait for shipping, check out Home Depot. Make sure to check the reviews because you do not want to deal with a tent malfunction the day of the event. Also, don't forget the tent weights so you don't get blown away!   
Determine how you would like to display your art. If you're going to hang it, you'll definitely need racks or a display board. My racks are from Ikea but Target has some great options too. Make sure you invest in racks that are compact and easy to assemble.  
Even if all your products will be hanging, make sure you at least one table (up to 5 feet. You can use this to sit behind or next to throughout the event. I use a cute fuzzy rug over my table but you can also buy a tapestry to use as a table cover for a boho look. Don't forget your chairs! Mine are from Ikea, they're foldable, compact, and lightweight.  
If the event will run on into the night make sure you have something to light up your space. Invest in battery-powered options because some events will not provide an electrical source to plug into. This is still a work in progress for me, let me know your suggestions in the comments!  
Tables, chairs, lighting, and tents are typically not provided by the event organizer so make sure you bring your own.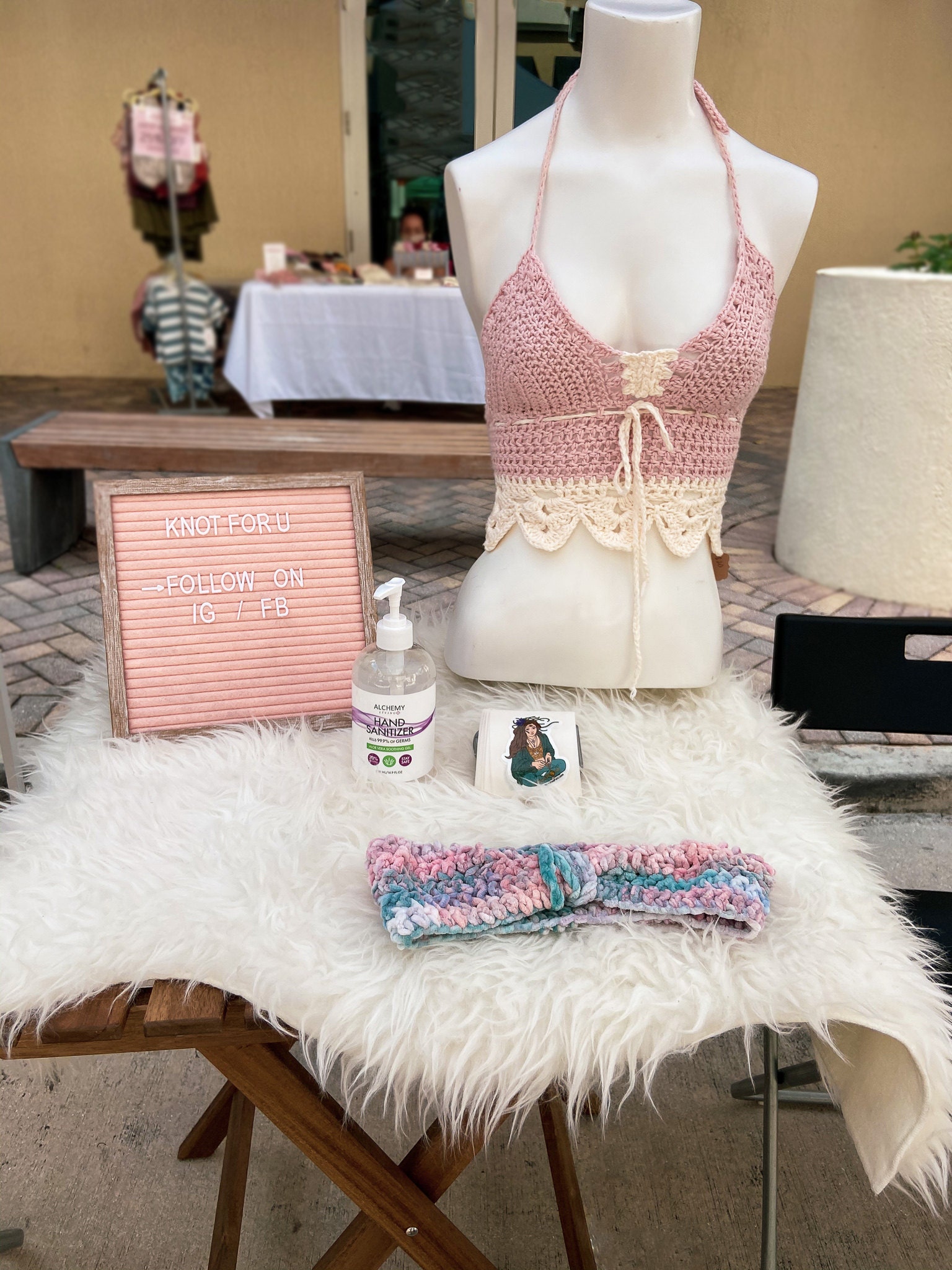 Decor 
Now for the fun part, decorating! My favorite places to find cute cheap decor are the Dollar Tree, Five Below, and Ikea.
Rugs are great especially if you're not using a tent to let customers know they've entered your shop. I mixed and matched rugs from 5 Below for a bohemian feel.
I love using fake plants around my area to give it a homey feel. Little potted plants look cute on the table and dangling plants around your racks. And of course, everyone loves twinkling lights! I wrap my racks with the lights and use some on the table too. I highly suggest having a board of some sort to share a message with customers, be it a light-up board, corkboard, or letter-board.  
If you're selling clothing a mannequin bust and a mirror are absolute musts! I got mine from a retail store I used to work at, but there are some cheap options from Dawson Jones. I typically change the top on the outfit every few hours depending on which pieces I see customers gravitate towards. Sometimes your favorite piece isn't the same as your customer's favorite. I got my mirror at Target and it's an over-the-door mirror so I can hang it from my tent. Your customers will love being able to see how a top might look on them whether they try on over their clothes or hold the piece against their body.  
Forms of Payments
Make sure to have a small box to carry your cash in. I would recommend having between $40-$60 in cash of different denominations ($1, $5, and $10s) to be able to offer change to anyone paying in cash. CashApp and Venmoare popular apps to send and receive money that you need to have download to your phone before the event. I also have a free Square card reader for those customers that prefer to pay with their cards. The important thing is to have multiple ways to accept payment at the events including cash, cards, and apps.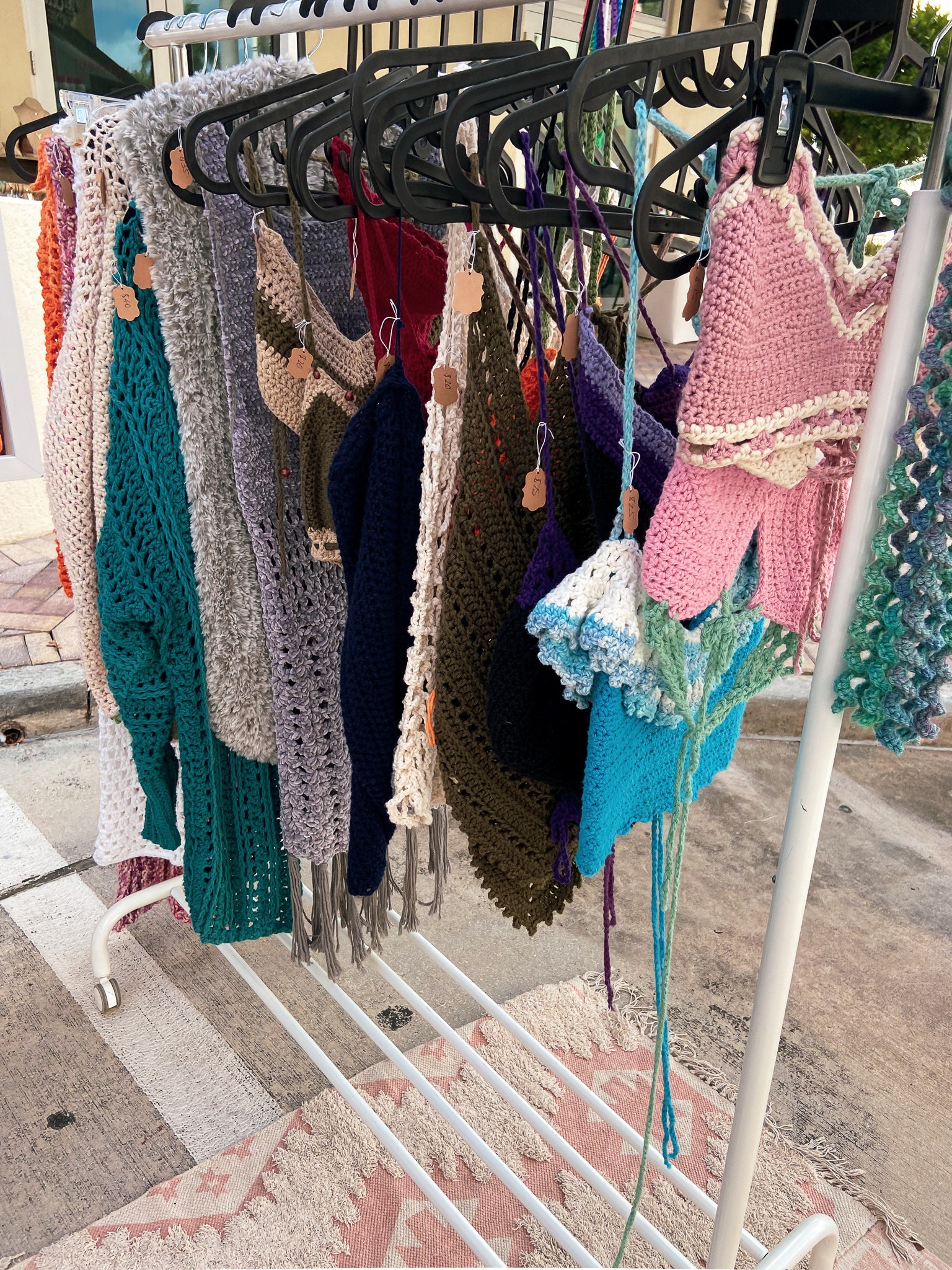 General Tips:  
If you have a chance to visit the vendor market on a prior date before signing up I strongly encourage you to do so. 
I prefer stickers over business cards, people are more likely to want and keep them 
Have shopping bags give out for purchases

Pro Tip: I reuse canvas bags from stores, like Urban Outfitters.

Make sure all your products have a labeled price tag that is easily visible and clearly written

Pro Tip: Gift tags work, it doesn't have to be a "price tag."
Have a clearance rack or offer a special discount on a purchase made at the event to encourage sales

Use large plastic pins with lids to transport your stuff to the event. These will work great to keep your stuff safe in case of unexpected rain.
Do a practice run of your setup a day or two before the event at home.  
Bring a friend or family member to keep your company at the event, you can even have friends come in rotating shifts
Make sure to bring a portable charger (pre-charged) and a charging cable, your phone WILL run out of batteries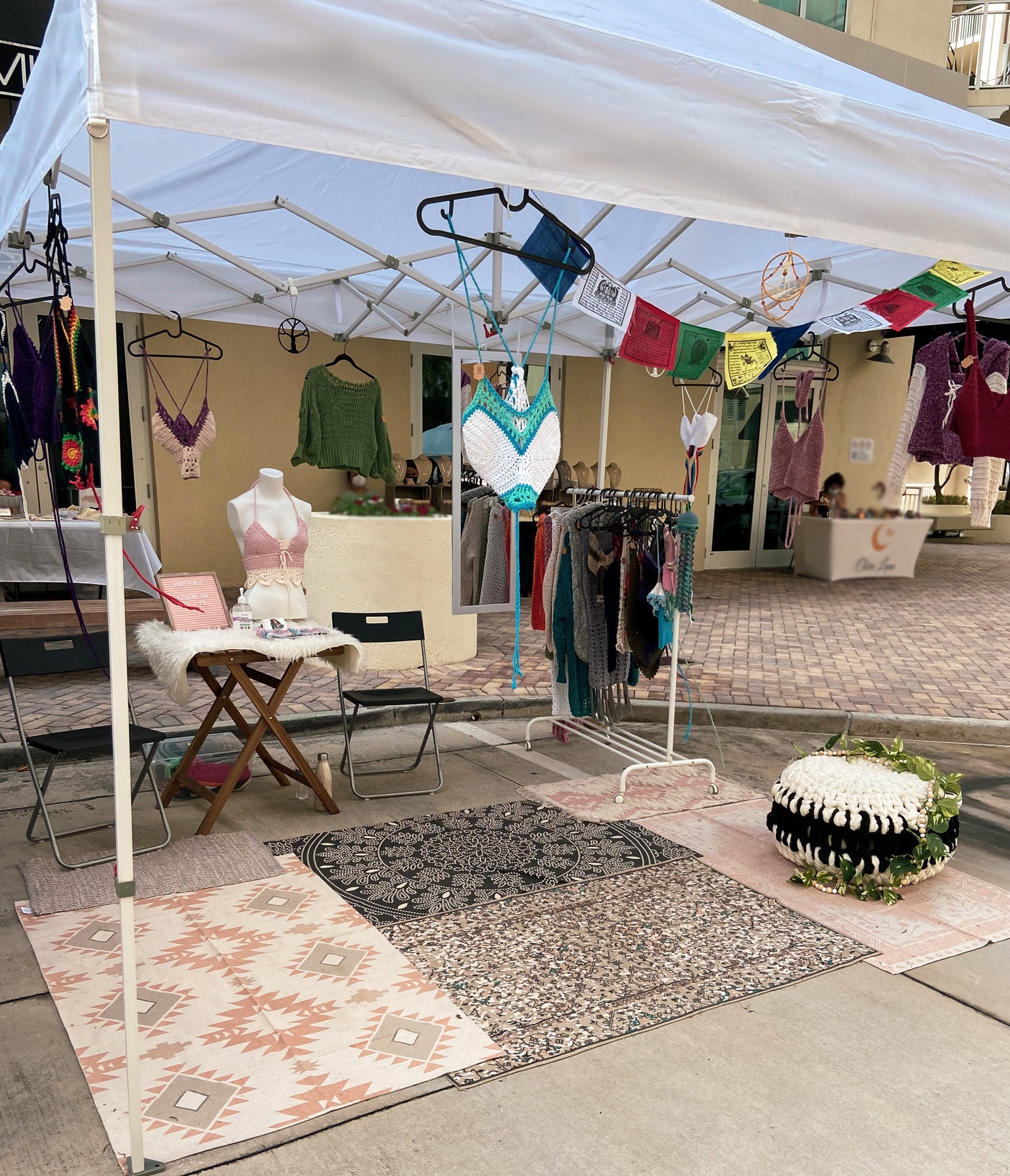 Make sure you greet every customer that walks by or into your area with a cheerful smile and hello. Read their body language, should you spark up a conversation or let them take a look around before asking a question? Don't be on your phone or look disinterested when someone comes by your shop, YOU have to sell your product. Your items are handmade and people love to get to know the artist behind the art and hear about what inspired you to make the piece that they're looking at.
These events are also a great time to meet local makers in your area. Make sure to visit the other shops and exchange business cards/stickers with other makers. This is a great way to extend your community with like-minded people and stay in the loop about other upcoming events, create collaborative artwork, set up art trades, and so much more fun!  
Good luck with your event! Let me know in the comments if you found this helpful, have any additional questions or have any tips you would like to share. 
xoxoxo 
Sammy  
Thanks for following along! Make sure to follow me on ,, and to see what's new with my shop and fun ways to incorporate crochet wear into your wardrobe!
Right-click and save this to have it handy for your next vendor market!